Liverpool midfielder Harvey Elliott has left his No. 67 shirt for a new squad number ahead of the new season.
The change to a lower number could signify a more prominent role for Elliott in Jurgen Klopp's squad for the 2022/23 campaign.
Having worn the No. 67 shirt since his arrival three years ago, Elliott has now been confirmed as Liverpool's new No. 19.
Ozan Kabak was the most recent player to wear the shirt during his loan spell from Schalke in the second half of the 2020/21 season.
Other players to have worn the No. 19 in the past include Sadio Mane – who wore it for two years before taking the No. 10 – Stewart Downing, Steven Caulker and Ryan Babel.
In May, Elliott admitted it was "everyone's dream" to wear a high-profile squad number at Liverpool, but said he liked the "unique" No. 67 shirt.
He also explained that he initially took the No. 67 because it was the next available squad number with the No. 7 – a number he dreams of wearing for the club in the future – in it.
"I used to love players who wore the No. 7 when I was a kid – Luis Suarez, people like that," Elliott said.
"I used to have my own shirt with 7 on the back.
"Then when you sign at such a young age you don't really get to pick from the lower numbers. No. 67 was just the next one available with 7 in it, so I thought 'yeah, why not?'"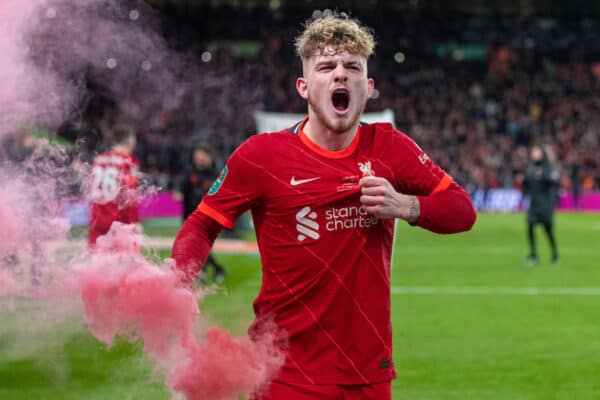 Two years ago, fellow midfield youngster Curtis Jones picked up the No. 17 shirt, which was previously worn by Ragnar Klavan.
Jones has since gone on to establish himself as an important member of Liverpool's midfield, something Elliott will be hoping to replicate in 2022/23.
He made 12 appearances for the Reds last season, a campaign disrupted by a nasty ankle injury sustained against Leeds in September.
We could see Elliott don the No. 19 shirt for the first time when Liverpool take on Man United in a pre-season friendly in Bangkok on July 12.